{{#infoboxbuilder: | 0:Theme = default | 0:CustomModule = | 0:MainImageCaption = | 0:ToggleContentLongerThan = 1000
| 1:Type = Title
| 1:Value = Dr. Adamos

| 2:Type = MainImage
| 2:Value = 

| 3:Type = Line
| 3:Label = Appearances
| 3:Value = 

| 4:Type = Line
| 4:Label = Status
| 4:Value = Deceased

| 5:Type = Line
| 5:Label = Call sign
| 5:Value = 

| 6:Type = Line
| 6:Label = Nationality
| 6:Value = China

| 7:Type = Line
| 7:Label = Occupation
| 7:Value = 

| 8:Type = Line
| 8:Label = Affiliations
| 8:Value = China CDC

| 9:Type = Line
| 9:Label = Gender
| 9:Value = Male

| 10:Type = Line
| 10:Label = Birth
| 10:Value = 

| 11:Type = Line
| 11:Label = Death
| 11:Value = mission 

Autopsy

; most likely killed by The First One

| 12:Type = Line
| 12:Label = Killed by
| 12:Value = 

| 13:Type = Line
| 13:Label = Voice actor
| 13:Value = 

| 14:Type = Line
| 14:Label = Actor
| 14:Value = 

}} Dr. Adamos is a character in Dead Trigger 2 and is a scientist working for the Centers for Disease Control, known as CDC, located in China. He is the second scientist in the game.
Dr. Adamos was a scientist before the outbreak. He was studying about the viruses and the clues. The CDC building was a laboratory and office communicating around the world. Adamos lost a lot of his friends and colleagues in CDC office.
Rescue
[
]
Dr. Adamos first appears in the mission "Office Rat" and he was found in a locker with the First One trying to get him. In the mission "Great Escape", he was sent to a chopper from CDC roof with Kyle.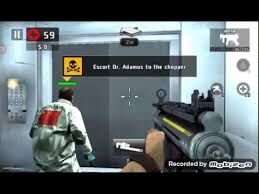 Murdered
[
]
In the last autopsy mission in the China campaign he is the one performing the autopsy on the First One along with Herman. In the middle of the autopsy they hear a loud noise. Adamos orders Kyle and his team to go check out what it is. When Kyle and his team (who're protecting) leave the area to check on the explosion.
When Kyle and his team come back to check on the autopsy progress Adamos is lying dead in a pool of blood next to the autopsy table. Herman was sitting in the adjacent corner. The First One has disappeared.